EU Specialty Food Ingredients News
2021-07

EU CODE OF CONDUCT ON RESPONSIBLE FOOD BUSINESS AND MARKETING PRACTICES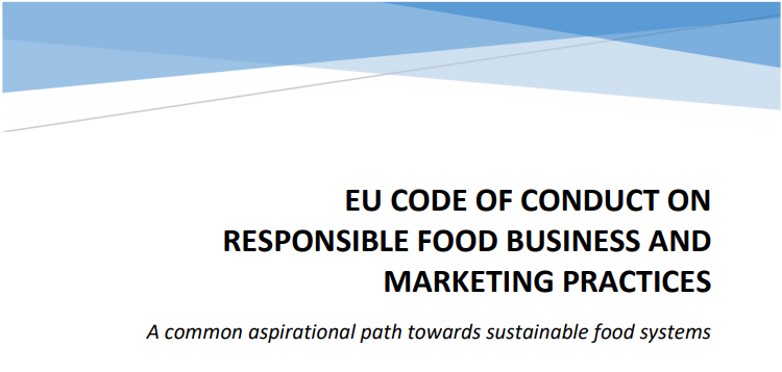 The development of a EU Code and monitoring framework for responsible business and marketing conduct in the food supply chain is one of the 27 actions planned by the European Commission under its Farm to Fork Strategy for a fair, healthy and environmentally-friendly food system.
EU Specialty Food Ingredients has signed up to this voluntary Code of Conduct that will be presented by the European Commission at a high-level event on 5th July. The association was involved in the Code's development over the past six months, in the workstream "Food consumption patterns (for healthy and sustainable diets)". The Code provides  "a general framework of aspirational objectives and targets, setting out a common vision for the EU food chain and other actors to help achieve sustainable foods systems. These aspirations are supported by a range of indicative actions, which serve as an inspiration for any food business, small or large alike, wishing to engage in the transition towards sustainable food systems." 7 aspirational objectives and targets have been determined, along with subsequent actions.
By signing the Code, EU Specialty Food Ingredients pledges to:
endorse the aspirational objectives set out in this Code (where applicable)
promote and disseminate this Code with(in) its constituency
encourage its members to align their sustainability actions to the aspirational objectives and targets of the Code and invite them, on a voluntary basis, to adhere to this Code, as appropriate
explore the possibility of developing sector-specific tools and resources in support of this Code
provide, on an annual basis, a report of their activities in support of this Code, which will be published on an open dedicated website
continue to engage in dialogue with other food chain/systems actors and EU and international policy-makers to forge (new) relationships, exchange good practices and discuss challenges encountered, learn from each other (studies, projects) and create better mutual understanding, and identify opportunities for collaboration and potential partnership.
More information about the role of our sector in a sustainable food chain is available in a factsheet here and in an infographic here.
Press Room
If you're a journalist or PR person, we have complete information packs on various subjects.