Infographics
HOW SPECIALTY FOOD INGREDIENTS HELP MEET SPECIFIC DIETARY NEEDS
Specialty food ingredients play a key role in the food value chain. They typically help preserve, texturise, emulsify and colour food, and can add health benefits as part of an overall balanced diet and lifestyle. These ingredients allow food and drink manufacturers to create products tailored to specific dietary needs, all of which are safe, healthy and convenient.
For example:
Recipe changes can help address and manage non-communicable diseases (NCDs) without compromising on taste, choice and convenience;
Adding essential nutrients to food and beverages can help reduce age-related risk factors and deficiencies;
Alternative innovative ingredients offer consumers with food allergies and intolerances a wider choice of products.
Read and download the infographic by clicking on the image below to find out more about:
REFORMULATION & NCDs
FORTIFICATION & SUPPLEMENTATION FOR HEALTHY AGEING
INNOVATION FOR ALLERGIES & INTOLERANCES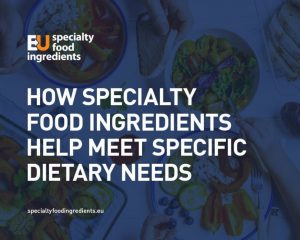 The infographic is also available in Italian here.
Press Room
If you're a journalist or PR person, we have complete information packs on various subjects.