EU Specialty Food Ingredients News
2021-09

Great achievements for EU Specialty Food Ingredients at Codex meeting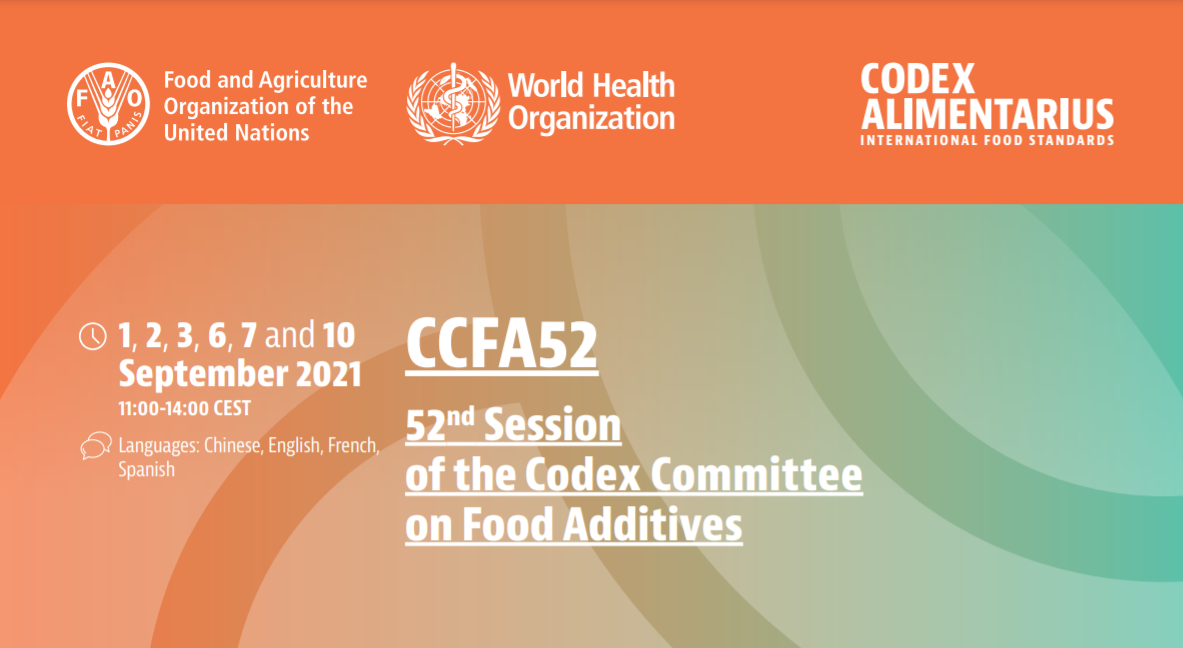 13th September 2021: The 52nd session of the Codex Committee on Food Additives (CCFA), was held virtually between 1st and 10th September 2021. EU Specialty Food Ingredients was represented by four members and the secretariat. Our delegation can be proud of its achievements for the membership and for specialty food ingredients in general.
General Standard for Food Additives (GSFA)
The following provisions supported by our federation on behalf of its members were recommended for adoption in the GSFA, which according to its own Preamble "should be the single authoritative reference point for food additives at Codex":
Lecithin, partially hydrolyzed (INS 322 (ii)), Lutein from Tagetes Erecta (INS 161b (i) and Zeaxanthin (INS 161h (i)) into Table 3 of the GSFA, which allows the use of additives with non-numerical Acceptable Daily Intakes (ADIs).
Some provisions for polyols in coffee, coffee substitutes, tea, herbal infusions, and other hot cereal and grain beverages, excluding cocoa (food category 14.1.5), either at GMP or with a numerical maximum level, at step 5/8. As expected since the virtual working group meeting held in June (see our story here), certain draft provisions for polyols, these will be circulated further for other rounds of consultations in preparation for the 53rd
Moreover and as a result of the review of the 87th Joint FAO/WHO Expert Committee on  Food Additives (JECFA) on carotenoids, the next electronic working on the GSFA shall revise the list of food additives contained in the GSFA under the group header "carotenoids" and circulate for comment existing provisions within this group.
International Numbering System (INS)
Some changes to the INS list that were recommended for adoption at step 5/8 include requests made by EU Specialty Food Ingredients, such as the inclusion of Riboflavin from Ashbya gossypii (now also known as INS 101(iv)) or the additional functional class "flavour enhancer" and technological purposes "flavour enhancer" and "flavour synergist" for Isomalt (INS 953).
JECFA priority list
The priority list of substances proposed for evaluation by JECFA that is recommended for endorsement includes Lycopene (synthetic, INS 160d(i)); and from Blakeslea trispora, INS 160d(iii)), upon EU Specialty Food Ingredients' request and with the support of the United Kingdom.
All recommendations shall be subject to discussion and endorsement by the 44th Codex Alimentarius Commission, which will take place virtually between 8th and 13th, 15th, 17th and 18th November 2021.
A strong knowledge of the procedures and main players as well as a thorough preparation are the keys to success at Codex. EU Specialty Food Ingredients will therefore be here to support and guide its members in the preparatory work for the 53rd CCFA, which shall take place in 12th and 18th months.
Press Room
If you're a journalist or PR person, we have complete information packs on various subjects.